Posted by Summer Bernard on Tuesday, June 18th, 2013


Welcome to our Muscle Worx For Her site. Myself and partner in fitness crime and fellow IFBB Bikini Pro Nina Silic have been working our butts off to bring you this awesome community that we really hope you all enjoy!

This site was created to educate you all on nutrition, supplementation, training whilst motivating you to achieve your dreams. I am extremely passionate of what I do and proud of where I have came from. The best satisfaction for myself is passing on my knowledge. Knowledge is POWER!!
So a little bit of background on myself, where I come from and what I am all about to get us started on the new journey
My passion for fitness began when I signed up for my first gym membership at 19. Growing up in a beach town, Jurien Bay, I was always very active with athletics, sports and my horses but that fitness passion didn't initially get me curious until I was at the gym.  Although I look back now and think, What was I doing!, whilst training t the gym I had incredible results in such a short amount of time so I became even more interested in fitness. After a few years of training I decided to then change my career to become a Personal Trainer which lead me to the competing stage as I was constantly in the gym. In 2004 I competed in my first bikini competition, had absolute no idea what I was doing on that stage. I didn't even know what a quarter turn was until I was behind stage getting ready to go on!! From that moment I was hooked and fascinated with the Figure ladies pumping up behind stage.

My first two years were a rollercoaster of emotion whilst competing and still partying. My highest placing was 5th in an Oxygen Cover Girl Competition and I felt very lost as to where I needed to be. After seeking a coach I then made the change to figure. 1 month into preparation for my first figure show my father was diagnosed with advanced aggressive cancer. My whole world was completely turned upside down when we were told he would have only 2 months to live. My father made it through 2 weeks and from then on the desire for me to be all about this lifestyle was at full throttle. I ditched my old life and the partying Summer that was and was driven to make him proud by focusing on the one thing I could control and that was me and where my life could take me.
Needless to say when I placed 2nd and both the WA and Australia Championships I was emotional getting of stage for what I had achieve for him.
I then had a success in both figure and fitness which then saw me competing in the first IFBB FitX Pro Figure Qualifier that I won and took the title of an IFBB Professional in 2011. I have now been a Professional for just over 2 years with one recent trip to the USA to live my dream of competing on the USA stage. (please see video blogs of my journey on my you tube channel – www.youtube.com/SummerBernardIFBBPro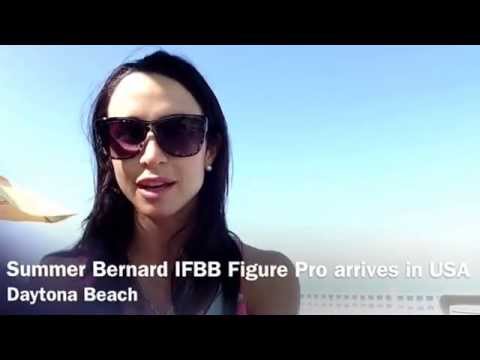 My goals are now set for the remainder of the year with my next competition being as an IFBB Bikini Pro (another reason why you must watch my video blogs hehe) I am excited, ready as always and look forward to sharing my journey with all of you and giving you some tips along the way!
Welcome to our world at Muscle Worx For Her and if you ever want to get in contact with me you can do so – summer@muscleworx.com.au
Much Love xoxox